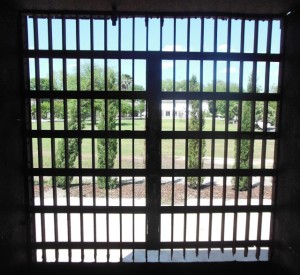 I had a very thought provoking week.  I had the honor to work with some fine young men from the military that lost their limbs in combat.  Most of them were in their twenties and quite simply, remarkable.  They were funny, polite and insightful.  I have to admit I was overwhelmed by their honesty.  And I was overcome with emotion when I left them.  Not pity just emotion.  I don't want to put any label on them.  I just want to thank them.  Whether you agree with why they were where they were, they have an unbelievably strong conviction for what they were fighting for and that dedication is what will stay with me.
And then I visited the Whitney Plantation which is the only museum dedicated to slavery in Louisiana.  It is dedicated to understanding the facts of slavery.  And there were a lot of facts.  Facts that I don't think had been brought to light until now.  There were walls of names of slaves that worked the fields and live in the tight slaves quarters and had little to eat.  They resisted in their own small, subtle way by learning how to read and write or learning a craft so they would have the opportunity to possibly have a better life.
One of the most poignant quotes I read in an article about the Whitney Plantation from the New York Times magazine was from a man whose father was a field hand.  He pointed out how the images of slaves etched in one memorial reminded him of his ancestors. "I wish some of my white co-workers would come to this place.  They'd understand me in ways they've failed for 30 years."
A number of memorials dot the grounds, including a series of granite walls that have the names of 107,000 slaves who spent their lives in Louisiana.  The memorial lists the names non-alphabetically to show the confusion and chaos that defined a slave's life.  With these memorials "The Whitney has figured out a way to mourn those we as a society are often reluctant to mourn."
The memorial had lately been a source of controversy among locals, who were concerned that it would be too disturbing.  "It is disturbing," said John Cummings, the man responsible for opening the museum.  "But you know what else?  It happened.  It happened right here on this road."
And if the messages of freedom didn't follow me enough this evening I saw a piece of the genocide that happened in Syria.  Tragic, disturbing and heartbreaking is the only way I can express the aftermath.
The price human beings have paid for freedom, from whatever it is that has us captured, I can only say how humbled I am by the strength, humility, pride and honor to which so many possess.