Thanksgiving happens every year to remind us what we should be grateful for in our lives.  Usually, I'm on an airplane traveling home to see my family.  And with that, the stress level was always very high for me.  I hate to fly.  Not a good thing when you are always on planes.  From the moment I wake up until the time I have to travel my anxiety level is usually very high.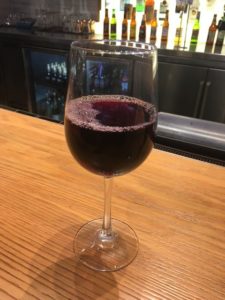 This season was no exception.  I am always afraid I'm not going to make the flight.  I'm going to be in airport limbo hoping to get on the plane, stowing my stuff and getting as comfortable as I can to make my way to my destination.  In all of the years, I have flown I have only missed one flight and that's because the driver got lost.  Don't even ask.  My worst nightmare.  It wasn't easy but most certainly wasn't so traumatic that I was really suffering.  Most of it was in my head.
So flying back to Vancouver from Los Angeles was not my favorite way to spend a Saturday.  My day started at 6 AM  when my eyes opened and I knew that I had to return the car, get back home and get ready to travel to the airport.  Doesn't seem like a big deal until you arrive at the airport two hours in advance only to be told the plane is delayed and then canceled.  They can get me on another flight but I have to go from Burbank to LAX.  Dear God everything that makes me crazy about flying just went to another level.
But wait…I called my son who happened to be at my house and said he would be happy to take me to LAX.  Done.  And the special treat was he brought his girlfriend so I had another hour to spend with my son and his girlfriend before leaving.  Heaven.
I know this seems impossible but we took all the highways that are usually a nightmare but low and behold it was smooth sailing and I arrived at LAX in 45 minutes.  Unheard of in our city.  Ok, can't help but be grateful.
Yep, it gets better.  Got an aisle seat in front of the plane.  Doesn't seem like a lot but to me that's gold.  But what was better?  Had a lovely conversation with two women in line.  One had come from Tahiti and one was taking her film to the Whistler Film Festival.  Right?  How grateful to have people to talk to so the wait time flew by.
Now food.  Since the flight was changed I no longer had the luxury of getting food on the plane.  Stopped at a restaurant that served a great fish taco and a lovely glass of Merlot.  And he just happens to have an extra order of french fries and asked if I would like to have them.  Sure, I said and proceeded to share it with the person next to me.  He was from Orange County but was working for his uncle in Minnesota.  He had a fresh face of maybe 24 which of course reminded me of my son.  We talked about the cold (he living in Minnesota but from Orange County) but how he loved the fact that he was living on 10 acres.  When I finished my meal and was ready to leave I said goodbye but he wanted a hug and wished me a safe trip.  Does it get any better?
And now I am waiting to get on a plane that will fly directly to Vancouver.  It has taken me close to twelve hours to get home but I have to say everything along the way which could have been a disaster actually turned out to be pleasant.  Yes, I said, pleasant.  And I'm grateful.  I'm not home yet but I really think it's going to be smooth sailing from here.  I have someone picking me up and even if that doesn't go as planned there are always cabs.  Wish there was Uber in Vancouver but I don't need to push it.  Thanks for giving.  For giving me the opportunity to acknowledge how fortunate I am in my life.