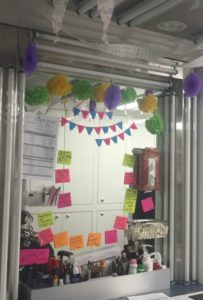 I had a birthday recently and as usual, I spent the time at work.  Usually, I celebrate with family on the weekend if it falls on a weekday so it never really feels like my birthday.
Being away from home working I've felt, at times, lonely and disconnected when it came to any holiday when I couldn't get back to my family.  But this year has been different.  I had a great birthday ON my birthday.
I had a restless night before and got very little sleep when I arrived in the early hours awaiting a long, hectic and busy day.  I was greeted by a beautiful celebration at my station all decorated with posted notes from all of my colleagues.  They were funny and heartwarming.  And it made me cry.
We work very long hours and for them to take the time to make me feel special was, well, very special.  All day long I was greeted by Happy Birthday! from everyone I came in contact with which included hugs and well wishes.  I can't tell you what that meant to me being far away from my family.   After working with these folks for a year and a half I have finally felt at home here in Vancouver.
And let's not forget Facebook.  For all of the bitching and complaining we do about the crazy stuff that is posted I've gotta say seeing all of my birthday messages made me cry again!  And by the way, I'm not a big crier.
I guess at 62 I'm finally beginning to realize how precious and wonderful small acts of kindness can be.  It really takes the edge off the daily stress of day to day life.  On a beautiful morning this past week we were filming on the beach and the day could not have been more perfect. The sun was shining, the sky was blue and even the swans hung around to be in the shot at the right time.  Before we rolled the director thanked all of us for sharing this beautiful day with her. She expressed how grateful she was to be right where she was at that moment.
I couldn't have said it better myself.  I am so grateful for the kindness in my life.