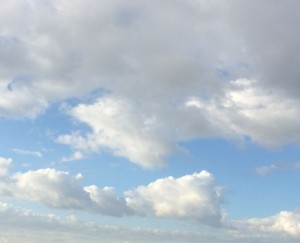 I recently viewed a youtube video of Joni Mitchell's 1970 BBC performance of Both Sides Now.  She was so beautiful in that golden hair, glowing, angelic way.  I was mesmerized not only by her voice but by the lyrics I was hearing.
I have heard that song many times over the years but this time I really listened to the lyrics and they spoke to me on a much different level than before.  I am going through many changes in my life and I often wonder if "what if" scenarios were different.  When I was younger I was clouded by the misconception that success was happiness.   "Rows and flows of angel hair and ice cream castles in the air…I've look at clouds that way."  I wanted everything  to be perfect.  I wanted everyone to be happy.
"But now they only block the sun.  They rain and snow on everyone.  So many things I would have done. But clouds got in my way. I've looked at clouds from both sides now.  From up and down, and still somehow, it's cloud illusions I recall.  I really don't know clouds at all."
My life is taking a turn. "But now it's just another show.  You leave 'em laughing when you go.  And if you care, don't let them know.  Don't give yourself away."  I was so afraid of being hurt.  So the armor went up and I became strong.
"Tears and fears and feeling proud.  To say "I love you" right out loud…I've looked at life that way. But now old friends are acting strange.  They shake their heads, they say I've changed.  Well something's lost, but something's gained in living everyday."  I now see so many things that I missed in searching for love.   I hope now I am beginning to understand what Joni Mitchell realized so many years ago.
"I've looked at life from both sides now.  From win and lose and still somehow, it's life's illusion I recall.  I really don't know life at all."   Which, I believe, makes each day a surprise.  Not always perfect but an opportunity to keep trying to find out what love and life are all about.