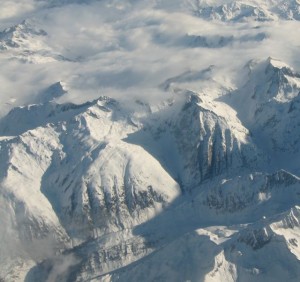 Switzerland has to be one of the cleanest countries I have ever been in.  It looks like it belongs in a fairy tale.  I know that sounds trite but my experience of three different towns all come to the same conclusion.  It has been over thirty years since I have been there so I don't know if it has changed but I can't imagine it being that different.  Recently I was in Paris and certain things are not the same (the Left Bank seems dirtier and more commercial than when I lived there but for the most part the city still takes my breath away.)  Switzerland is different.  It didn't seem as cosmopolitan and hip as Paris.  But if you want small town beauty the towns I visited had it in spades.  I didn't stay long in St Galen as my hostel was in the very small town, Schwende.  I had to take two trains from St Galen to get there climbing higher and higher into the Alps.  I stopped briefly in Appenzel, another heaven on earth and then hopped on a local train that took me even closer to heaven and dumped me off in Schwende.  I had found a hostel that was the ridiculous price of five dollars a night and because it was so close to the holiday it was empty.  Part of me loved the solitude and part of me was dying for some company.  I went to bed by candlelight and listened to the silence of the night.  I was far up in the mountains where the sky was lit up with thousands of stars.  If I could ever conjure up what life after death would be like it would be this stillness.
In the morning I was looking out my window at the skiers that had dotted the mountainside.  One particular skier looked quite peculiar coming down the mountain.  He was very large from the waist up with spindly legs.  I couldn't image how he was flying down the mountain so gracefully until he arrived at the bottom.  To my amazement he had a child strapped on his back and a child strapped on the front.  The children were clapping and squealing with delight.  I envied the freedom and simplicity of what appeared to be their lives.  Later, when we lived in Park City, Utah our son Alexander was able to grow up on the slopes.  God knows, I didn't strap him to my back, as I was lucky to get down the bunny slopes without breaking a leg.  The ski instructor once told me that kids look down the slopes and see the beautiful landscape while adults just learning to ski look down the mountain and see broken legs and hospitals.  I know the feeling.  It was very difficult to understand that if I leaned forward down a large mountain I actually would have more control than if I leaned back. Sounds like life.
I decided I would rent some cross-country skis and explore my surroundings.  Michael, my boyfriend at the time, had given me a crash course as he had experienced it numerous times in the snowy terrain of Syracuse, New York.  He did it, however, down the middle of his street.  Big difference in the middle of the Swiss Alps but I was game for anything.  How hard could it be?  I was to find out it was more difficult communicating with the clerk in the ski shop than it was to cross-country ski.  I put on my shoes, strapped on my skis and off I went.  There was so much snow and so small a town that I was out in the open and on my way in no time.  The sun was shining and the rhythm from my breath moved me quickly along the vast sea of snow.  I couldn't believe how quickly I reached the foot of what seemed like a small hill.  I turned my skis sideways and started climbing.  As the mountain became steeper I realized the only way to continue was to take my skis off. I was amazed I didn't need snowshoes to make my way up the mountain.  It was no longer a hill but a mountain.  My ignorance kept me from being afraid that maybe I would get lost or become a casualty in an avalanche. I had no idea of what I was getting myself into having never been in mountains of this magnitude.  But what I discovered when I finally reached the top (or what I decided was the top) was the most breathtaking view of the village.  I gasped (yes, I gasped!) at what I saw and immediately began to cry.  It was so quiet I could hear my heart beat.  Not just feel it but hear it beat.  I had never experienced such silence. The sun was shining, my breath was rich and I felt like nothing could harm me.  I felt so small and so large at the same time.  I was a speck on the mountaintop but bigger than I had ever been in my life.  I had made it.  I believed I had conquered the Swiss Alps.  Through the tears I began laughing deep from my belly and screamed with delight.  No one was there to dictate how I should feel or how I should act and I was free to do whatever I wanted to do.  Cincinnati, Ohio was a million miles away and I was free to live my life the way I chose.
I could have stayed forever but the sun was sinking quickly and I knew I would never find my way back once it became dusk.  I whisked down the mountain tucked under like I had been skiing all of my life.  Was I crazy?  I didn't know how to ski!  When I got down to the base and looked up, I hadn't gone that far.  But the countryside was so vast and the town so small that it was easy to get lost without traveling a great distance.  I loved that.  I loved the vibrancy of the city but to be able to escape to such solitude was the best of both worlds.  I love the sound of the ocean but nothing makes me happier than the silence of the mountains.
I returned my skis and the smile on my face translated into bliss with the shopkeeper.  We nodded to each other several times  and smiled using hand signals to express my desire to return the skis and pay. I reached my empty abode tired and sore but so exhilarated.  I sat watching the sunset and felt assured that tomorrow was all still there waiting for me to discover.  Welcome New Year!