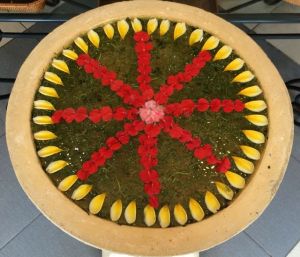 It's the early morning hours in Ubud, Bali and I have finally gotten the Bali belly. I have traveled extensively in my life and should be use to this. Had it in India and as careful as I tried to be it has won the battle. Before I would be going to work. That would always make it even harder to endure but Bali is different. Bali is a coming home for me. For the first time in my life I am taking the steps to actually find what I have been searching for in my own feeble way. I'm more dismayed now because I'm here to really do the work. Any distractions makes me feel anxious and angry, two feelings I am very familiar with but wanting to find a way to chase them from my psyche.  And I am working on my time with my deadline. I've written three thousand words today and have a long way to go. But it's my deadline on my terms and it feels right.
Am I crazy traveling half way around the world to find what I have been searching for decades? Is this road I have to take to have the soul-searching question finally answered? The rooster screaming in the background taunts me to get down to business and realize that it is in me somewhere. It is a void I don't seem to be able to fill but it seems now vital for my sanity. I need to discover what it is I really want. I knew what I wanted when I was young but circumstances did not allow me or I didn't allow me to find happiness in trying. I have tried all of my life to find the meaning of everything. Of my work, my family, my friends, my respect, my integrity and being liked. Especially being liked. Helping people so they would like me. To know I did well. Somewhere or somehow it would help me to build points so that I would get the things I desperately wanted in life. Fame, attention and wealth. Then I would be happy. Or safe.
Oh the web we weave! The things I told myself to make it ok.  Even though I knew something had to change.  I gave myself all of the excuses to take the safest way.  Not necessarily the right way but it seemed so at the time.  Because when the mind wants to feel certain that standing still when you need to move is ok than it's time to shake things up.  As mellow as Bali is it is definitely a place to shake it up.  There is a constant reminder of gratitude among the people who have fresh flowers and shrines everywhere and sometimes change the flowers multiple times a day.  Inside my room is a large window which looks out at a beautiful statue.  Seems like it was placed there just to look over me as I write.  So I face my desk to the calming face and I start towards the next phase of what I am so grateful for…my life.