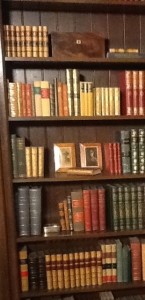 It's that time of year when I feel the need to buy everyone everything.  I get anxious about what to buy and if it will be enough and whether they will like it.  This year will be different in the holiday celebration and I'm not quite sure how I will digest it.  It's a given that the world is definitely going through a tumultuous time.
I have a favorite store here in Vancouver.  It was known as Chapters when I first experienced the downtown store.  It reminded me of the FAO Schwartz store in Manhattan. That was the iconic spot to go to buy toys.  The film Big immortalized the place when Tom Hanks played Heart and Soul on the huge floor piano.  People from all over would come just to see the piano that still had major real estate in the store.
When my son was young we would go to see the displays and let him experience the magic of what was popular in the late eighties.  I can't tell you how many times I watched Land Before Time and how dear the stuff dinosaur was to my son.  I would watch the movie with him and root for Littlefoot, the shy, quiet dinosaur lead with the hidden strength.  He reminded me of my son.  To this day he is a pillar of strength for me and I adore him for it.
But I digress.  Shopping.  Chapters is now know as Indigo and it is no longer downtown.  Much like FAO Schwartz the rent became too high and they had to relocate.  The new store is still magical and I love it because it is a book store.   A toy store for both adults and children.  It doesn't have the same feel as the downtown store but it still is holding its own even though the online world of book sales is slowly killing publications as we know it.
Even when I think there is someone who is impossible to buy for I always find something unique when I enter a small used bookstore or Indigo.  The smell inside a fresh, new book is like nothing else.  Definitely better than most perfumes.
I've never embraced the adage  "shop til you drop" cause I have a lot of steam in me still.  It takes a lot for me to drop.  And nothing gives me more joy than to shop for someone else.  I miss hearing  Heart and Soul on the floor piano.   I think we need that now more than ever.