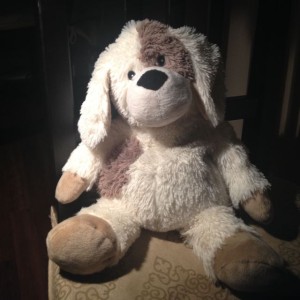 I recently received a stuffed dog loaded with lavender that you can heat up in the microwave.  Ok, don't judge.  It's heaven.  I mean heaven.  I sleep with it, use it like a heating pad and lay with it while watching TV.
Don't judge it until you've tried it.  I'm older but am not apologizing for holding this dog dear.  I think part of it is the smell of lavender.  It reminds me of home.  My backyard was filled with lavender until the drought took it's toll.  It was so beautiful and the smell brought back memories of fields of lavender in France. In fact a friend of my mine who lived for many years in Paris said it reminded him of a field in Provence when he looked at my backyard.
I know it may sound juvenile but sometimes that's all we need.  I find if something brings you solace and peace it shouldn't matter what shape it takes or how silly it may seem.  I know at this time of year I seem more precious in my thinking of the simple things.  There is a nursery of sorts across the street from my apartment that sells Xmas trees and evergreen swag and beautiful wreaths.  I walk around  just to take in the festive smells of the season.
It's rainy and cold now in Vancouver and I find I resort to the memories I enjoyed in my childhood.  Hot chocolate, gingerbread cookies and yes even a heated, lavender fill doggie (or something like the doggie).  Oh, and a little Xmas tree made from twinkle lights and twigs.
I think many of us may crave these simple things in life especially right now.  And if it means snuggling with a toy dog I say go for it.  The toys of our childhood, whatever the shape, may be just what we desire to bring back some innocence this world so desperately needs.